Published and Forthcoming Books

---
---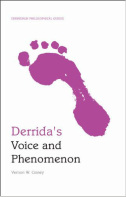 Derrida's Voice and Phenomenon: An Edinburgh Philosophical Guide
(Edinburgh University Press, 2014)

Published in 1967,
Voice and Phenomenon
marked a crucial turning point in Derrida's thinking: the culmination of a 15-year-long engagement with the phenomenological tradition. It also introduced the concepts and themes that would become deconstruction.
Voice and Phenomenon
is a short book, but it can be an overwhelming text, particularly for inexperienced readers of Derrida's work. This is the first guide to clearly explain the structure of his argument, step by step.
Buy this book!
---
---
---
Deleuze and Derrida: Difference and the Power of the Negative
(Edinburgh University Press, 2018)

Few thinkers from the twentieth century have had a greater impact on the contemporary continental tradition in philosophy than Jacques Derrida and Gilles Deleuze. While their respective areas of research overlapped greatly in terms of content, and extended into political, literary, and artistic spheres, they are still best known for their respective attempts to theoretically formulate a non-dialectical conception of difference (différance in Derrida's case and difference-in-itself in Deleuze's). Yet, while a great deal of scholarly work has explored the ethical and political comparisons between the two, none has specifically attempted to compare or contrast their concepts of difference. This book draws such a distinction between Derrida and Deleuze, by examining each with respect to Hegel and Nietzsche, differentiating them on the basis of the criticisms they level against Hegel, as well as their valorizations of Nietzsche, and the ways in which they understand Nietzsche's thought to surpass that of Hegel.

Look for this book in 2018!
---
---
---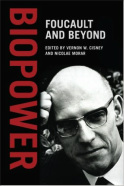 Biopower: Foucault and Beyond
Edited with
Nicolae Morar
(University of Chicago Press, 2015)

Michel Foucault's notion of "biopower" has been a highly fertile concept in recent theory, influencing thinkers worldwide across a variety of disciplines and concerns. In
The History of Sexuality: An Introduction
, Foucault famously employed the term to describe "a power bent on generating forces, making them grow, and ordering them, rather than one dedicated to impeding them, making them submit, or destroying them." With this volume, Vernon W. Cisney and Nicolae Morar bring together leading contemporary scholars to explore the many theoretical possibilities that the concept of biopower has enabled while at the same time pinpointing their most important shared resonances.
Situating biopower as a radical alternative to traditional conceptions of power—what Foucault called "sovereign power"—the contributors examine a host of matters centered on life, the body, and the subject as a living citizen. Altogether, they pay testament to the lasting relevance of biopower in some of our most important contemporary debates on issues ranging from health care rights to immigration laws, HIV prevention discourse, genomics medicine, and many other topics.
Buy this book!
---
---
---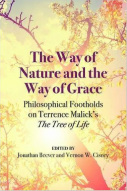 The Way of Nature and the Way of Grace: Philosophical Footholds on Terrence Malick's The Tree of Life

Edited with
Jonathan Beever
(Northwestern University Press, 2016)

Amid all the controversy, criticism, and celebration of Terrence Malick's award-winning film
The Tree of Life,
what do we really understand of it? T
he Way of Nature and the Way of Grace
thoughtfully engages the philosophical riches of life, culture, time, and the sacred through Malick's film. This innovative collection traverses the relationships among ontological, moral, scientific, and spiritual perspectives on the world, demonstrating how phenomenological work can be done in and through the cinematic medium, and attempting to bridge the gap between narrow "theoretical" works on film and their broader cultural and philosophical significance. Exploring Malick's film as a philosophical engagement, this readable and insightful collection presents an excellent resource for film specialists, philosophers of film, and film lovers alike.
Buy this book!
---
---
---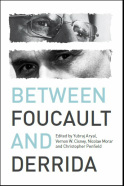 Between Foucault and Derrida
Edited with
Yubraj Aryal
,
Christopher Penfield
, and
Nicolae Morar
(Edinburgh University Press, 2016)
Between Foucault and Derrida explores the notorious Cogito debate and includes: the central articles, an important piece by Jean-Marie Beyssade, along with a letter Foucault wrote to Beyssade in response both these pieces available for the first time in English translation. In the second part of the book, 10 essays written by some of the most well-known scholars working in contemporary continental philosophy address the various philosophical intersections and divergences of these two profoundly important thinkers.
Buy this book!
---
---
---
Living Currency

Edited with
Nicolae Morar
and
Daniel W. Smith
(Bloomsbury Publishing, 2017)

'I should have written you after my first reading of
The Living Currency
; it was already breath-taking and I should have responded. After reading it a few more times, I know it is the best book of our times.'
Letter to Pierre Klossowski from Michel Foucault, winter 1970.
Living Currency
is the first English translation of Klossowski's
La monnaie vivante
. It offers an analysis of economic production as a mechanism of psychic production of desires and is a key work from this often overlooked but wonderfully creative French thinker.
The book also contains a translation of Klossowski's "Sade and Fourier."
Buy this book!
---